Our diverse line of polymers and additives can conquer the most difficult soil conditions
From PHPA's and PAC's to Our Newest Generation of Additives
Able to handle any complex drilling conditions, the diverse line of polymers and additives at CETCO continue to assist contractors in the most difficult soil conditions. CETCO polymers and additives consistently deliver the highest performance therefore adding significant value. CETCO has an extensive line of high quality and reliable additives and will assist you in improving the performance of all of your drilling operations.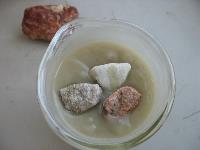 HERCUL-EZ™
HERCUL-EZ is a proprietary additive that is used in conjunction with bentonite based drilling muds. With proper formulation, the system will produce a unique drilling fluid with excellent shear thinning characteristics. At low shear or at rest, the fluid will gel and allow for suspension of large cuttings, yet thins immediately under pumping conditions.
Case Studies
Published Articles
Technical Data Sheets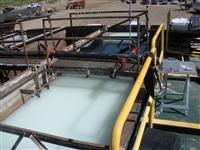 ARIZONA DEPARTMENT OF TRANSPORTATION DRILLED SHAFTS
Phoenix, AZ
Case Foundation Company and CETCO collaborated to drill 200 large diameter shafts and solved a number of substantial challenges in a project for the Arizona Department of Transportation (ADOT).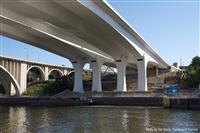 I-35W BRIDGE REBUILDING
Minneapolis, MN
Case Foundation Company, Anderson Drilling and CETCO collaborated to rebuild the 1-35 W Bridge after its collapse in 2007.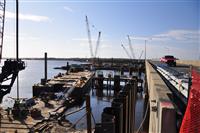 MULLICA RIVER SLURRY ENGINEERING
Port Republic, NJ
Ground Testing Inc. and CETCO collaborated to build the largest bridge in New Jersey in the past 20 years.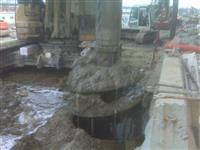 UNIVERSITY OF LOUISVILLE STADIUM DRILLED SHAFTS
Drilling in contaminated soil conditions with debris and having to control fluid loss. The stadium, located over an old L&N rail yard, had heavy ground contamination.