Choose from a wide range of Geosynthetic Clay Liners that meet your exact project needs
A world of experience and we're here to help.
CETCO is the leading global supplier of Geosynthetic Clay Liners (GCLs) and has a full range of products to address design challenges such as hydraulic performance, shear strength and chemical compatibility. Whatever the containment application, CETCO can assist with the selection of the most appropriate solution for the project.

Click Here for Frequently Asked Questions
Features & Benefits of CETCO GCLs
Industry leading internal shear strength without reliance on supplemental processing provides high safety factor on steep slope designs
SUPERGROOVETM technology allows bentonite to migrate out and create a self-seaming overlap reduces costs for bagged bentonite and associated labor
Lamination capabilities to provide composite geomembrane-GCL products
Granular bentonite for consistent hydraulic performance with no dust problems
Alternative to Compacted Clay
Geosynthetic Clay Liners (GCLs) are frequently used in environmental containment applications as an alternative to traditional compacted clay liners. GCLs consist of layers of geosynthetics surrounding a layer of low-permeability sodium bentonite. The materials are needlepunched together into a lining material capable of resistance to high shear forces.
Advantages over Compacted Clay Liner Systems
Self-Healing and Self-Sealing
Better Hydraulic Performance
More Resistant to Varying Weather Conditions
Faster and Easier to Install
Chemically resistant GCLs
Through extensive knowledge of clay-polymer interactions, CETCO has engineered GCL technologies capable of withstanding aggressive leachates. RESISTEXTM formulas utilize a blend of high performance bentonite, with polymers that enhance the properties in extreme conditions.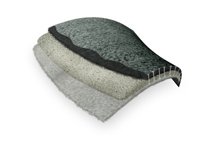 BENTOMAT® DN
BENTOMAT® DN is a reinforced GCL consisting of a layer of sodium bentonite between two nonwoven geotextiles, which are needlepunched together.
READ MORE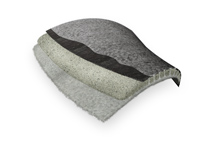 BENTOMAT® ST
BENTOMAT® ST is a reinforced GCL consisting of a layer of sodium bentonite between a woven and a nonwoven geotextile, which are needlepunched together.
READ MORE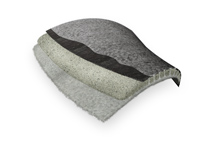 BENTOMAT® 200R
BENTOMAT® 200R is a non-reinforced needle-punched GCL consisting of a layer of sodium bentonite between woven and nonwoven geotextiles, which are needlepunched together.
READ MORE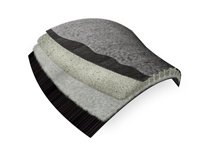 BENTOMAT® CLT
BENTOMAT® CLT is a Composite Laminate reinforced GCL consisting of a layer of sodium bentonite between two geotextiles, which are needlepunched together and laminated to a textured geomembrane.
READ MORE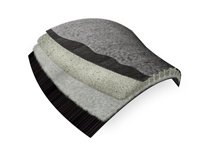 BENTOMAT® CL
BENTOMAT® CL is a Composite Laminate reinforced GCL consisting of a layer of sodium bentonite between two geotextiles, which are needlepunched together and laminated to a smooth flexible membrane.
READ MORE
BAILEY MINE
West Finley, Pennsylvania
Bailey Mine, supplies bituminous coal used in the generation of electricity. At the site, coal laden sediment is pumped to settlement ponds which are typically underlain with clay. As the ponds are extended vertically to increase theircapacity, the side slopes must be lined with clay or geosynthetic clay liner (GCL) to prevent the pumped water from reentering the local aquifer.
DOWNLOAD FULL CASE STUDY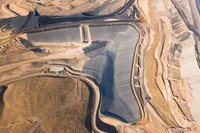 BARRICK GOLDSTRIKE MINE
Elko, Nevada
The Barrick Goldstrike tailings bottom liner system consisted of an 80 mil HDPE textured geomembrane overlaying BENTOMAT DN GCL. The GCL was used as a replacement for the 1 ft of 1 x 10-6 cm/sec permability compacted clay liner.
DOWNLOAD FULL CASE STUDY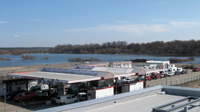 BORDER CHECKPOINT EMBANKMENT
Zosin, Spain
Zosin – Ustiług is an international border control point for cars and buses. Being located on the eastern bor-der of Poland, it is also one of the checkpoints where foreigners enter the European Union (Schengen area) from Ukraine. Before extension this checkpoint was capable of clearing 1700 automobiles and 6 buses a day. After extension the capacity was doubled and allowed for additional admission of up to 1000 cargo vans a day.
DOWNLOAD FULL CASE STUDY

CARLOTTA COPPER
Carlotta, Arizona, U.S.A.
The Carlota Copper mine is an open-pit copper mine located approximately six miles west of Miami, Arizona. The site produces LME grade copper cathode through the process of heap leaching, in which a chemical solution is ir-rigated through heaps of ore, dissolving the precious metal. The resulting copper-infused liquid (aka the pregnant leach solution) trickles down to a leach pad, where it is collected and pumped to a recovery facility. In order to prevent the pregnant leach solution from leaking out, the leach pads are typically comprised of a composite liner system with a geomembrane overlying a low permeability soil layer.
DOWNLOAD FULL CASE STUDY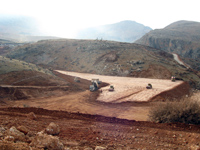 COPLER MINE
Erzincan Province, Turkey
The Gold Mine Heap Leach project is a large, open pit gold deposit located in central Turkey. The site processes gold ore through leaching, in which a chemical solution is irrigated through heaps of ore, dissolving the precious metal. The resulting gold-infused liquid trickles down to a leach pad, where it is collected and pumped to a recovery facility.
DOWNLOAD FULL CASE STUDY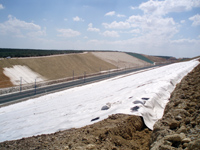 CORDOBA HIGH SPEED RAIL
Herrera, Spain
In high speed railroad lines, continued rainfall periods may cause problems due to the presence of soils sensitive to moisture changes. The ground can respond by shrinking (settlement) when it dries, or swell-ing (heave) when it becomes wet again. This may result with instability of excavation cuts. Many railroad structures and embankments founded on such sensitive, unprotected soils require constant monitoring and remedial measures to prevent a potential failure.
DOWNLOAD FULL CASE STUDY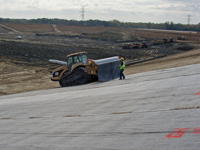 DUCK CREEK POWER PLANT
Central Illnios
The increased use of coal to generate electricity has brought with it an increased amount of coal combustion by-products (CCBs). Metal ions released from these CCBs can be harmful to the environment and therefore need to be contained.
DOWNLOAD FULL CASE STUDY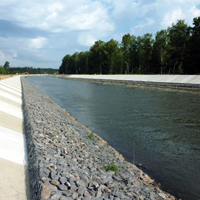 DYCHÓW PUMPED-STORAGE POWER STATION
Dychow, Poland
The pumped-storage power station in Dychów was constructed between 1933 and 1936. After 75 years of continuous operation the owner of the facility decided to carry out scheduled maintenance and upgrades. The project was started in 2011 with the renovation of two fissured concrete sections of the approach ca-nal, 9.5 km long in total.
DOWNLOAD FULL CASE STUDY

FORT MCMURRAY OIL SANDS
Northeastern Alberta, Canada
The Suncor Pond 1 is an oil sands tailings pond located near Fort McMurray, Alberta, Canada. This region experiences an average winter temperature of -19 °C, with a record low temperature of -50 °C. Full-scale closure and reclamation activities had been underway at the site since 2007. In late 2009, infilling of the pond had been completed.
DOWNLOAD FULL CASE STUDY

FREEMONT WATER RESERVIOR
Fremont, Ohio
Constructed in 1911, the Ballville Dam serves as the source of water for the city of Fremont, Ohio. It also blocks fish movement on the Sandusky River, preventing walleye access to an important spawning habitat. As a result, the City of Fremont teamed up with the Ohio Department of Natural Resources to construct a new water supply reservoir, allowing the Ballville Dam to be removed and walleye movement to be unobstructed.
DOWNLOAD FULL CASE STUDY

FRESH KILLS LANDFILL
Staten Island, New York
Fresh Kills landfill is one of the largest landfills in the world, comprising a total of 2,200 acres. The construction of the cap was to be completed over five construction seasons from 2006-2010.
DOWNLOAD FULL CASE STUDY

KEARNES MEADOWS PONDS
Jackson, Wyoming
Kearns Meadow consists of 41-acres of land in the middle of Jackson, Wyoming. It contains approximately one mile of Flat Creek, which serves as an important spawning habitat for local cutthroat trout.
DOWNLOAD FULL CASE STUDY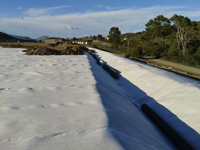 MALLORCA COAL ASH LANDFILL
Mallorca, Spain
The increased use of coal to generate electricity has brought with it an increased amount of coal combustion by-products (CCBs). Metal ions released from these CCBs can be harmful to the environment and therefore need to be contained.
DOWNLOAD FULL CASE STUDY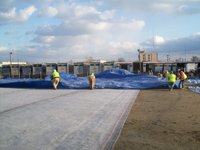 PLANK ROAD LANDFILL
Patterson, New Jersey
Jersey Brownfield was formerly the site of a chemical recycling facility with soil at the site was heavily contaminated.
DOWNLOAD FULL CASE STUDY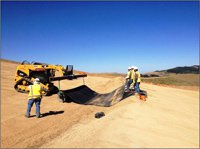 RASMUSSEN RIDGE PHOSPHATE MINE
Soda Springs, Idaho
The Rasmussen Ridge Phosphate Mine Tailing Storage Facility was implemented as part of the on-going Supplemental Reclamation Action as a demonstration project. The cap and cover system was designed to effectively eliminate surface water infiltration and potential runoff of trace concentrations of selenium contained in the waste rock.
DOWNLOAD FULL CASE STUDY

TVA KINGSTON
Harriman, Tennessee
As part of its emissions control at the Kingston Fossil Plant, flue gas desulfurization is performed, which creates as a by-product a synthetic version of the mineral gypsum and must be stored in a gypsum pond or taken to a landfill.
DOWNLOAD FULL CASE STUDY

ZARAGOZA HIGH SPEED RAIL
Zaragoza, Spain
In high speed railroad lines, continued rainfall periods may cause problems due to the presence of soils sensitive to moisture changes. The ground can respond by shrinking (settlement) when it dries, or swell-ing (heave) when it becomes wet again. This may result with instability of excavation cuts. Railroad lines founded on embankments comprising sensitive soils require constant monitoring and, in some cases, may require periodic shutdowns and maintenance.
DOWNLOAD FULL CASE STUDY