Sediment Capping Technologies
Solutions for in-situ capping of contaminated sediments
CETCO provides a range of solutions for remediation of contaminated sediments. Contaminants may be treated in-situ, reducing risks and project costs. Depending on the site conditions traditional sand caps may prove unfeasible, or result in an excessively thick design. Sediment capping technologies provided by CETCO address concerns about navigation, placement, biointrusion and flow patterns. Active cap designs incorporate active or adsorptive media to capture or treat the contaminants and result in a reduced thickness of the cap design.

Addressing challenging erosion conditions
In-situ cap must be designed to ensure protection from erosion for waves, currents, storms or ice. CETCO offers the Triton Marine Mattress system for maximum protection from erosion conditions. This system can be combined with either active capping or traditional capping materials.
Benefits of utilizing CETCO technologies
Reactive capping media available in either bulk or as a reactive mat allowing for wider variety of application methods




Combinations of reactive core materials allow for a wide range of treatable contaminants Adsorptive capacity reduces required cap thickness, thus increasing navigable depth when compared to traditional methods




Composite layer stabilizes sediments, minimizing re-suspension and reducing downstream impact




Consistent sheet size allows for highly accurate placement and maximum coverage




Product properties insure verifiable coverage of sediments due to fully contained, defined mass per area of reactive material




Reduces multi-step dredging process into fast, easily adjustable, consistent installation




Reductions in volume of capping material needed combined with speed of installation offer significant economic benefit
REACTIVE CORE MAT™ ORGANOCLAY®
REACTIVE CORE MAT™ is a patented permeable composite mat consisting of reactive material(s) encapsulated in a non-woven core matrix bound between two geotextiles. The upper geotextile is a needle-punched, non-woven fabric that is heat-laminated to a matrix of nonwoven fibers needle-punched into a woven geotextile. Through its innovative processing, RCM can combine two active materials, if required.
REACTIVE CORE MAT™ APATITE®
REACTIVE CORE MAT™ APATITE is a permeable composite of geotextiles and a mineral that adsorbs and sequesters certain metals from water.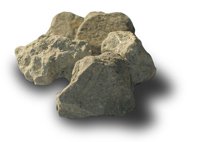 BENTOBLOCK™
BENTOBLOCK® is natural sodium bentonite screened to 3/8 inch (0.95 cm) to 3/4 inch (1.90 cm) in size. BENTOBLOCK is certified to NSF/ANSI Standard 60, Drinking Water Treatment Chemicals - Health Effects.
BROS SUPERFUND SITE
Logan Township, New Jersey
Historical operations at the BROS Super-fund Site included waste oil storage, processing and disposal. The wastes, which contain heavy metals, PCBs, and other organic compounds, have seeped into the soil and contaminate surface waters and ground water supplying private drinking wells. The Site was placed on the Superfund National Priorities List in 1983. Remediation of the BROS Superfund Site was complex and required management of many interconnected issues.
COLLINS COVE SEDIMENT CAP
Beverly, Massachusetts, U.S.A
The Triton® Marine Mattresses by Tensar® was installed in a former manufactured gas plant (MGP) site to protect the underlying Reactive Core Mat®. This site is now protected against severe erosion caused by weather and waves.
GRAND CALUMET RIVER
East Chicago, Indiana, U.S.A
In 2009, clean up began on a one-mile stretch of the West Branch of the Grand Calumet River. This project involved the mechanical dredging and removal of 82,000 cubic yards of sediments and soils impacted with PAH, PCB, and various heavy metals. The estimated $33 million project was funded under the Great Lakes Legacy Act (GLLA), with the GLLA contributing to 65% of the overall project cost.
HARBOR POINT CAP
Utica, New York, U.S.A
After dredging of a Utica, NY harbor was completed in 2010, investigations revealed residual concentrations of the primary constituents of concern, which included NAPL and PAHs. It was decided that a reactive cap solution should be incorporated into the remedial design to mitigate exposure risks.
ISLAND END SEDIMENT CAP
Boston, Massachusetts, U.S.A
The sediment cap project is situated on a former manufactured gas plant (MGP) site located adjacent to the Boston Harbor. Previous remedial work included dredge and disposal in CAD cell and cap. Persistent sheen resulting from gas ebullition was apparent.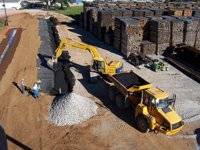 KOPPERS WOOD TREATMENT FACILITY
Guthrie, KY
This is a case study of an active wood-treatment plant that has operated in southwestern Kentucky since 1913. Historically, released DNAPL had migrated along the fill-soil interface and had impacted the drainage ditch, soil and seep locations.
MCCORMICK AND BAXTER SUPERFUND
Portland, Oregon, U.S.A
The former McCormick and Baxter Creosoting Company is located in Portland, Oregon on the Willamette River. This Superfund Site encompasses approximately 41 acres of land and an additional 23 acres of contaminated sediment.
MECO DRIVE
New Castle, Delaware, U.S.A
The U.S. Army Corps of Engineers (USACE) and The Delaware Department of Natural Resources and Environmental Control (DNREC) solicited proposals for the remediation of a storm water ditch that was contaminated with heavy oils containing PCBs and PAHs. The ditch had seeps which were contributing to the contamination in the Little Mill Creek (the outfall for the ditch).
PINE STREET CANAL
Burlington, Vermont, U.S.A.
A manufactured gas plant operated at the Pine Street Canal site from 1895 to 1966. The plant disposed of wastes from the gasification process, including coal tars, which migrated to a canal on the site. In addition, the sites' history includes activities at a tie-treating facility resulting in DNAPL discharching to the subsurface. As part of many remedial efforts at the site, a sand cap was constructed in 2002 to cover contaminated sediments and restore nearby wetlands.
RAILROAD TIE TREATMENT FACILITY
Escanaba, MI
The groundwater at a former creosote wood treating site was contaminated by non-aqueous phase liquid (NAPL). The contaminated groundwater was a threat to the nearby fresh water bay when NAPL and soluble organics were showing on the surface of the bay.
STRYKER BAY
Duluth, Minnesota, U.S.A
Stryker Bay was heavily polluted from the late 1800s through 1962. The harbor area was ringed with tar and coke plants, heavy industry and slaughterhouses that all discharged industrial waste into the water. The sediment in the bay, slips and part of the river is contaminated with mercury, polyaromatic hydrocarbons, lead and other toxins as well as a NAPL seep on the east side.
ZIDELL BARGE COMPANY
Portland, Oregon, U.S.A
Cleanup is required for land which was contaminated with a variety of chemicals as a result of ship construction, ship breaking, and barge construction at a site where heavy industrial use dates back to the early 1900's. In addition to the site's former industrial uses, several private and municipal storm sewer outfalls discharge directly to the Willamette river.